SO CAPRI - MY TIPS FOR NAVIGATING THE CHIC, ITALIAN RETREAT
 Where to stay
I took the time to thoroughly research my accommodation arrangements for Capri; I knew I wanted to rent a villa so that I could enjoy the beauty of the island in privacy and complete relaxation. A view of the Faraglioni rocks was non negotiable, as was a garden and pool. I had visions of lazing around with a glass of limoncello and thankfully I found something more than suitable. 
Although staying in private accommodation did give a more authentic experience, there were a few things that made me yearn to check into a hotel..the main one being access. Capri roads are very narrow and most of the villas are not accessible by transport which means lots of walking. Luckily, this was enjoyable and it was a pleasure to enjoy the incredible views. It was not so fun trying to haul twelve pieces of heavy luggage 500 metres up a steep hill and many stairs!
Hotel Caesar Augustus *****
 I was only intending to stay on Capri for one week but after I had become more familiar with the Island (and falling in love with it) I decided to extend my stay for three more days and checked into Hotel Caesar Augustus in Anacapri. This is a Five star luxury premises which is owned by a local family and managed by the Relais & Chateaux group. 
After visiting a few luxury hotels throughout the week, I decided that this was my favourite. I love comfort and the Caesar Augustus with its classic style and boutique sense of coziness really appealed to me. I stayed for three nights in a Junior Suite and it was the perfect ending to my magical week on Capri.
The Capri Palace Hotel *****L
After recommendations from a few friends I made a dinner reservation here for my first night on Capri. Another 5 Star L, this hotel is immediately impressive with its sweeping pathway bordered with bougainvillea which welcomes you to the entrance. Dinner was equally impressive with its five courses of Michelin starred excellence. If you like luxury with modern elegance then this would be an obvious choice. They also have a sister restaurant, Il Riccio Beach Club which is extremely chic and located directly above the Blue Grotto.
Shopping
The boutiques on Capri are what you would expect for a resort that attracts the elite. There are the usual Gucci, Valentino, Prada, Cartier and the not so usual local, artisanal boutiques which are equally impressive. To have such a mix and such a saturation of chic retail is really very unique. I remember walking along the Via Camerella and thinking that it would be impossible to live on Capri and not be well dressed. 
The Capri Sandal is almost as famous as the island itself and there are dozens of Sandal boutiques with celebrity filled photo walls showing off their clientele. The best and original of them all is Canfora which has been making handmade sandals on the island since 1946. Jacqueline Kennedy Onassis, Maria Callas, Brigitte Bardot, Princess Grace, the list of A-list clientele is endless and it is all down to the quality and beauty of the Canfora Sandal. 
I met with Constanzo who was such a gentleman and offered to show me how me makes the sandals to such a high quality.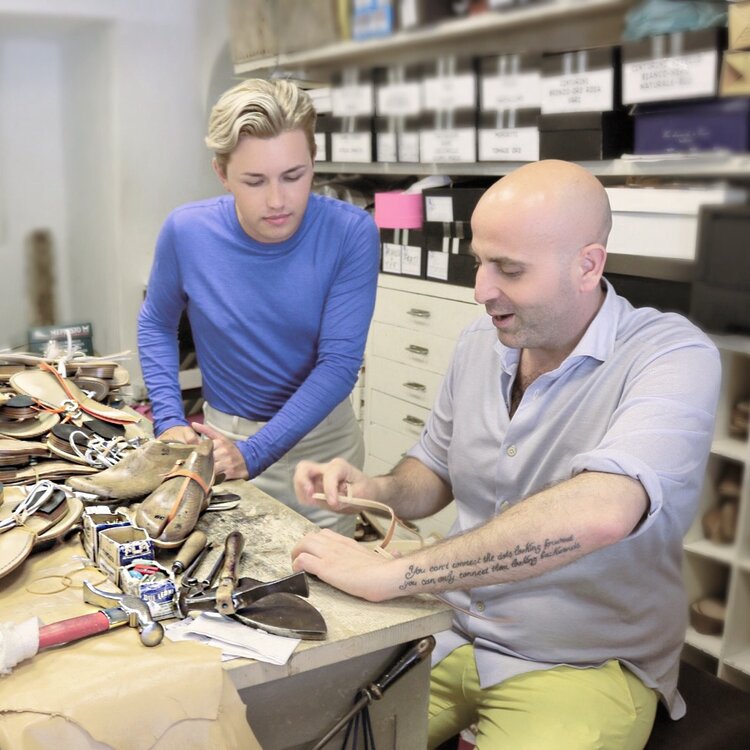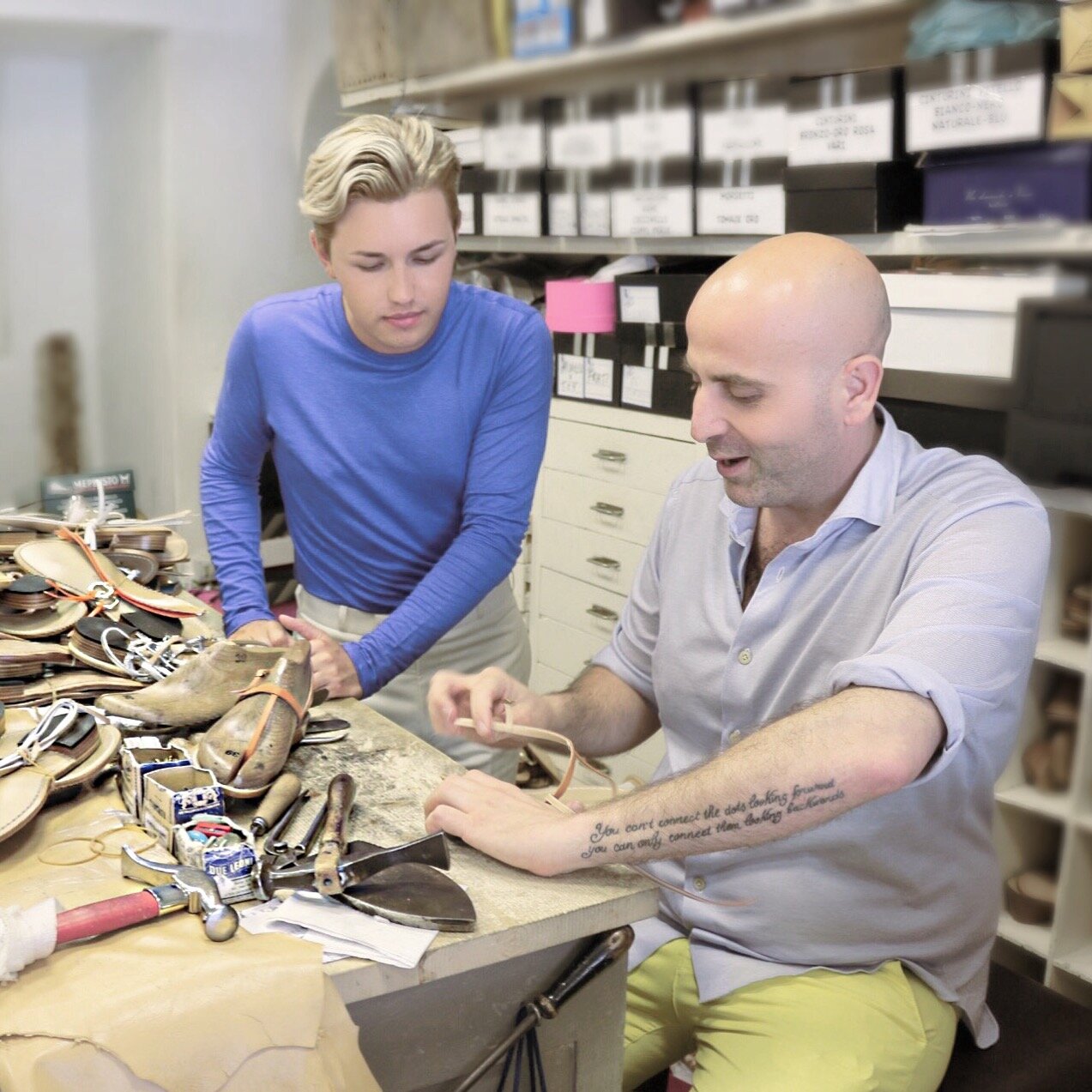 Visit Villa San Michele
In Anacapri, the smaller but equally lovely village above Capri, you will find Villa San Michele which was designed and inhabited by the Swedish physician and author Axel Munthe. 
''My house must be open to the sun, to the wind, and the voice of the sea, just like a Greek temple, and light, light, light everywhere!"  Axel Munthe
And so the vision was realised as you will see walking through the heavenly gardens which are surrounded open views of the sea. Personally I was not overwhelmed with the interior which is filled with dark wood and instead spent all of my time exploring the garden. 
Have evening drinks at The Piazetta
At the heart of Capri is the Piazetta, the island's main square which is surrounded on all sides by Cafés where you can relax like the locals and people watch, read a newspaper or just sit and chat. With regards to people watching I would advise visiting in the evening when the day tourists have left and the island is less crowded. Indeed the Piazetta at night is a place to see and be seen; hide behind your dark glasses and watch the world go by.
Enjoy the Gardens of Augustus
Just down from the Piazetta and past all of the glamorous boutiques you will arrive at the heavenly Gardens of Augustus with their panoramic views of Marina Piccolo and the Faraglioni. This is a perfect opportunity to capture an Instagram worthy moment on Capri with beauty all around.  To enjoy the garden in peace, I would suggest visiting in the early morning and late afternoon when it is less busy.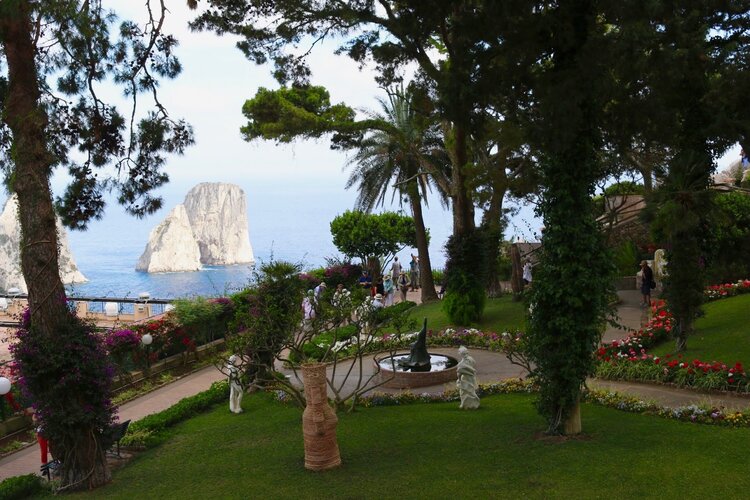 See Capri by Sea
Capri is a small island and to sail around its perimeter takes no more than around three hours. I hired a small boat for the day and for me it was one of the most perfect days on Capri where I really got to explore the beauty of the island.  The sea's are beautifully calm so you are able to bathe in the sunshine surrounded by the crystal azure of the Mediterranean with the luxury of a still boat. 
There a few restaurants located on the shores that will pick you up from your anchored boat and speedboat you away to a long lunch. I stopped off at La Fontelina which is an ultra chic beach club and restaurant where after lunch you can bathe under the blue and white striped parasols or dive off the cliffs into the warm waters below. It is one of those places that makes you stop and think about how beautiful Earth is. 
After lunch I continued around the island, often stopping for a dive into the tempting waters. The last stop was the Blue Grotto which you normally have to pay to enter and a small boat will take you inside. For some reason it was not 'officially' open when I arrived but people were anchoring and swimming into the grotto alone. Not wanting to miss out I did the same and it was truly enchanting. To swim into the darkness of a cave and then to witness it illuminate with blue light is one of the most beautiful things I have ever seen.
Where to eat
The food on Capri is plentiful in choice and high in quality. In all of the places I dined, there was not one where I had a disappointing experience. The restaurants on the island are almost as famous as their clientele, who like the sandal boutiques, have their photographs displayed proudly on the walls. Whether you are looking for a seafood lunch or a romantic dinner by candlelight, there is something that will please and delight. 
Aurora
This is perhaps the most famous of all the famous restaurants on Capri and is known because of its droves of superstar diners. Beyonce, Mariah Carey, Tom Cruise, again the list is ever-growing. 
I particularly liked Aurora for its ambience. Located in a narrow street just off the Piazetta you dine with the well dressed crowds and the pleasant babble of conversation makes you feel as though you belong. In a time when the iPhone rules at the dinner table there was no one here who was not engrossed in the company of their fellow diners. 
The Caprese Cake is a famous delicacy on the island..a tart made of chocolate and almonds and then sprinkled with icing sugar. All of these things just happen to be my ultimate favourites and so I did indulge, even so far as requesting a scoop of ice cream on the side.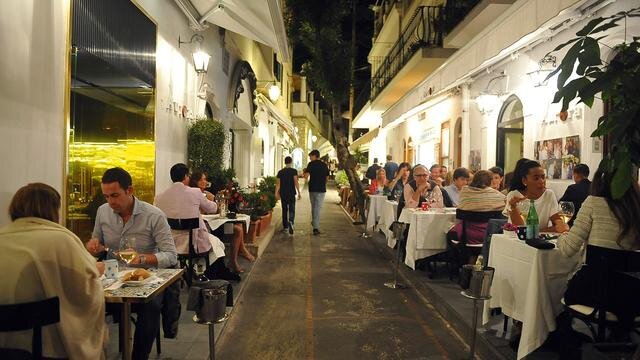 Il Riccio Beach Club
A long lunch is always my favourite kind. Sitting with great company enjoying a crisp, white wine with a warm sun and gentle breeze whilst enjoying good food. Il Riccio was made for this kind of soiree. Located right above the Blue Grotto, the restaurant is open on all sides to the heavenly blue of the sea where the yachts are anchoring down to come and join the elegant crowd. 
The menu is largely sea food based with a great choice of options to suit all dietary requirements. My main course of Sea Bream was cooked perfectly and was satisfyingly filling enough to ward off any temptation of the dessert room where I instead opted for fruit..boring I know. 
Restaurant da Paolino 
It seems that most restaurants on Capri have a special 'something' that is designed to lure you in just like the mythical Sirens, seductively singing to Ulysses as he was making his way back to Troy.  For da Paolino this is its lemon trees that cover the tables below creating a visually stunning haven in which to enjoy dinner. If you are looking for a romantic setting then this will surely satisfy with the luxury of outdoor dining, the glow of candlelight and the spectacle of an abundance of lemon trees with the moon glowing through the branches.